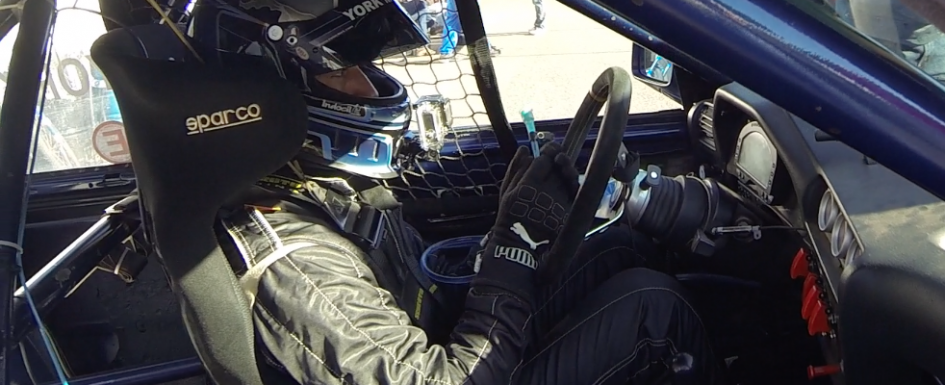 Racing is an odd sport. It's even crazy.
As drivers, we'll drive for hours on end as fast as we can, simply for the pure joy of man versus machine – and the competition. However, there's much more to it than just driving to the absolute limit. It's also about the people you spend time with that make race weekends worthwhile – regardless of results. More than once, my dad and I have said: "We have some awesome friends."
Our trip to Oregon in mid-October was no exception.
After a spending a day in Portland with Dad (eating bacon maple bars & doughnuts at Voodoo Doughnuts for breakfast, hanging out at the @PDXArtMuseum, and then gyros and bento from vendors at Food Carts Portland for lunch), we called up our long-time racer friend, Kyle Keenan to hitch a ride to the track.
Once we arrived, we got a phone call from the owner of the West Coast Touring Cars (WCTC) team we're racing for saying that the hauler – with all the team's cars, including ours – was still in Seattle… Nearly two-hundred miles and three-hours away. Our car would not be arriving until the next morning….
Apparently the race hauler's hydraulic lift gate "blew up". Thanks to the team's crew chief, John McDermott and driver, Chuck Hurley, they somehow managed to get parts and fix the thing overnight!  They then drove down in the wee hours of the morning and made it to the track on time to make first practice. Love those guys!
For the race – the 38th annual Six Hours of the Cascades – Dad and I were teamed up without any other co-drivers this year. It actually was our second time driving together in this race; two years ago, we finished on the podium in our class with WCTC teammates, Rob Dunn and Tom Olsson. Now, however, it was just the two of us sharing the car (which was really friggin' cool…!).
Dad and I both felt great about the car and our pace after finishing the "practice race" in the morning. (In reality, it was the final round of the Northwest Mini-Enduro Championship – a two-hour race that was the culmination of a season-long series within the ICSCC's regular race series.)
With some foreshadowing, we had excessive steam coming from the engine compartment after that race. Popping the hood open, the crew discovered what appeared to be a coolant leak from a "loose hose clamp". No big deal…tightened it up, and we were told, "Good to go!"
That turned out to be wrong.
The Six Hours of the Cascades is famous for having a "traditional" Le Mans-style start. At the sound of an air horn at the race's beginning, the opening driver runs across pit lane, jumps in the car, belts up with the help of a crew person, fires the engine – and GOES!!
With Dad's help, Yours Truly was the very first car out of pit lane. Great! About fifteen minutes into the race, the engine temperature was elevating too high and engine power was waning. The crew chief called me in and I nursed the car back to the pits and behind the wall. John McDermott, once again, was the man who saved us. Whatever he and the crew fixed (a leaky hose, I guess – I was in the car anxiously waiting to go!!), we got back on the track after having lost many, many laps. At that point our strategy changed. A class win was no longer a reasonable goal. It was about making up as many laps as we could – and finishing.
While we were quietly hoping some of our in-class competitors would have some mechanical issues too, we had to keep pushing on with focused effort, and that we did.
Dad and I were relentless – we gained lots of laps back on our competitors. In then end though, we fell short of a much anticipated podium finish.
While every team and driver wants to win, the only things that they can control are those things within their own realm. For us, that's exactly what we did. We were as quick as the top-finishers and drove consistent and fast laps. That's all we could do. Our results weren't great – but our satisfaction was!
Dad has lost count of how many times he's raced in the "Cascade Enduro". I have memories of attending it with him as a little kid – just hanging out in the pits.
Now, to have raced the race a couple times, I see why my he loves it so much.
I – and Dad – will be back for many more, guaranteed!
Postscript: Dad and I always appreciate the support that our friend Garth Stein provides us. He's one of our biggest fans! The fact that he made the trip down from Seattle specifically to see us and help cheer us on, was awesome!! We so appreciated it!