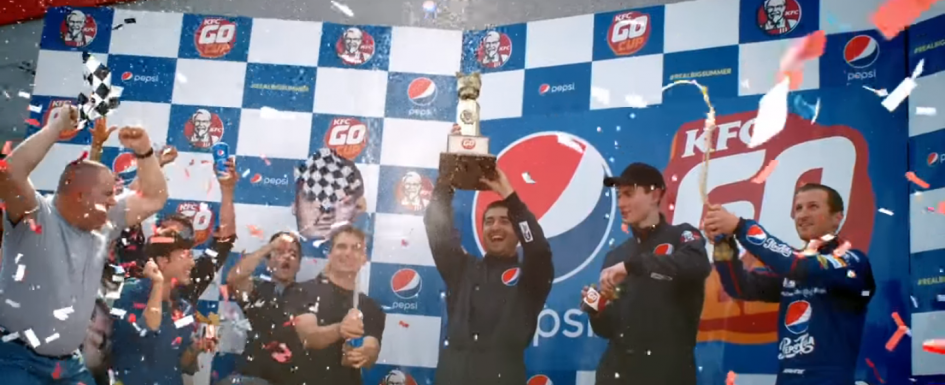 If you haven't already seen the Pepsi and KFC #RealBigSummer commercial I was featured in with Jeff Gordon, Kasey Kahne, and Steve Szabo, click the video below.
There are so many people to thank for letting me be a part of this. Everyone at GoPro Motorplex for being like family, all of the producers and staging guys from Farm League, Pepsi, KFC, and of course Jeff and Kasey.
Honest to God – no BS – I had no idea this commercial was in store for Steve and me! We were completely convinced that we were going to be featured in a segment of a documentary about karting and auto racing.  It wasn't until we pulled up to the track and saw all of these people with signs with our faces on it that all of this was for us!!
Way to go Jeff, you pulled off another Pepsi commercial prank for the 3rd time!
Yes, it was a straight up, 10 lap race between the three of us with a "competition caution" with 3 laps to go. And yes….fried chicken, fries, and Pepsi got all over the place. Steve and I did our best to double-team Kasey, and I can assure you it was a very close and fun race. At least I know I was driving pretty hard. Who knew that a three car field could have such a close race?
It was a good time, and thanks to Pepsi for making my summer a whole lot of fun!
Now, I think Pepsi and KFC would look perfect on my race car! Perhaps Kasey Kahne has an extra dirt sprint-car chassis I could use…? Just sayin'…
Potential partners, inquire within!