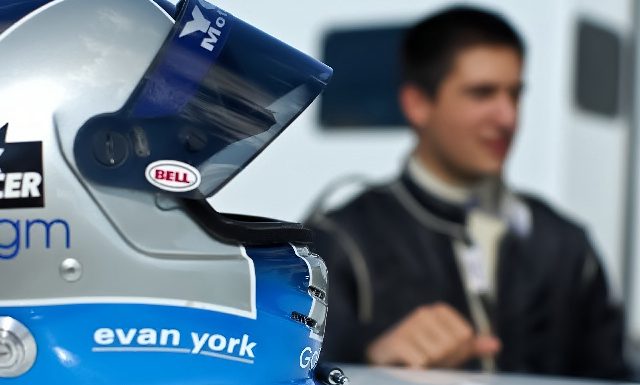 West Coast Touring Cars Select Evan York For 2013 O'Reilly Auto Parts Northwest Grand Prix, Triple Race Weekend
Evan York. © YORK Motorsport  
"Once again, we're very pleased that Rob Dunn's West Coast Touring Cars (WCTC) have invited both my dad and I to race his team's cars at this year's O'Reilly Auto Parts Northwest Grand Prix July 13,14, 2013 at Spokane County Raceway." noted Evan recently. "Last year's event was a very successful one for us – and loads of fun! I'm eager to go back!"
Evan York with WCTC Team Principal, Rob Dunn. © YORK Motorsport  
Only Evan will be able to compete with the WCTC team at this year's event as Kevin (aka, Dad) has prior conflicting motorsport commitments.
It will be Evan's third weekend at the track in a WCTC car – and he's ready! He will be driving one of the team's Dodge ACR, factory-original race cars. He's enjoyed their competitiveness many times before and, for this event, they have been developed even further.
"The racing in Conference (International Conference of Sports Car Clubs) is very competitive and I enjoy that. Also, Spokane County Raceway is one of my favorite road-racing courses in the Northwest! The Northwest Grand Prix is always a great event." enthused Evan.
WCTC are again bringing in John McDermott to be car chief and team strategist. That fact is a huge benefit as it will be a busy weekend for Evan – he will be racing in a planned total of six different races across the three day event!!
On each of the three days, Evan will be racing in two different race groups for Improved Touring-classed cars – Group 2 and Group 5. Each group will have its own practice and qualification sessions as well as the races themselves. All of that equates to a bunch of time on track – which is great!
Evan York, racing a WCTC Dodge ACR at Spokane Raceway Park. © YORK Motorsport 
Held at Spokane County Raceway in Eastern Washington state, the race should prove to be as challenging as any. Ambient temperatures are often in the mid-nineties – so that would mean temperatures inside the racing cars could be well above that during competition… HOT!!
The 2013 O'Reilly Auto Parts Northwest Grand Prix is scheduled for July 12-14 and is sanctioned by the International Conference of Sports Car Clubs.  100% of all ticket sales go directly to Spokane's Vasnssa Behan Crisis Nursery. The event will be held on the Spokane County Raceway's road race course.
As Evan continues his exciting journey, you can follow along at www.evan-york.com, on Instagram @EvanYork3, and on Facebook.